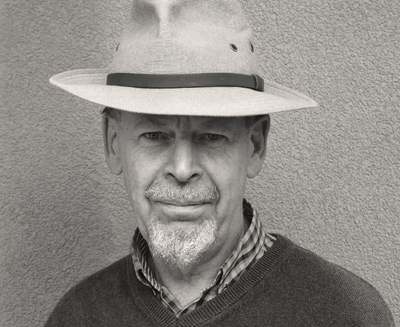 Diarmuid Boyd makes vividly colourful paintings in oil, mixed media and collage. His quirky and surreal contemporary art consists of strange inventions and weird, wild, imagined worlds. He makes witty and playful comments about the human condition with many references to ancient and contemporary life. The originality and rare quality of his work make it very desirable to art collectors worldwide.
"I was given my first real box of paints for my eighth birthday. I can still remember how enjoyable it was to sit outside with these colours and brushes and make a picture of what I saw before me. That was April 1959 – we lived outside Kyrenia in Cyprus.
Since then the act of painting has remained my passion. Before long I was back in Ireland and wanted to paint the Irish landscape. I loved visiting an uncle's art studio, the smell of the oil paint, turpentine and linseed oil – the brushes and palette, just watching him work.
During the 1960's my Dad was farming in South Kilkenny and at first I wanted to represent the world I saw. After school I went to art college. In 1981 I left a job on a farm to pursue a full-time painting career. The paintings I exhibited then were mainly landscape. I also painted people, animals, interiors, and water. I enjoyed it for about 20 years.
By around 2001 I began to feel I had done all I could in that sphere. My enthusiasm had begun to waver. Perhaps people could sense this, and sales declined. I began driving a taxi in Dublin to pay the bills.
From Outer to Inner
Since art college, however, I had always pursued a more personal art, from the imagination. I still have some earlier examples – watercolours and drawings, sketches and fragments. In the many solo exhibitions in the 1980s and 90s I often included a few of these.
For a long time I had the idea of building a vocabulary of images, as did painters I admired like Ernst and Klee, to give expression to a more mysterious inner world.
Soon after moving my studio from the city up to the hills above Dublin in 2005, I turned completely to painting the strange hidden world.
Now's the time…
Now, along with a small collection of pieces from earlier decades, I have a large number of works that have gestated over the past years in my studio. At last I can say that I am happy with this body of work.
I needed to have these paintings around me, both to continue working on them and to inspire me in making new ones. But it's time for them to go out and find homes for themselves.
I hope you will enjoy them."
Diarmuid
October 2018